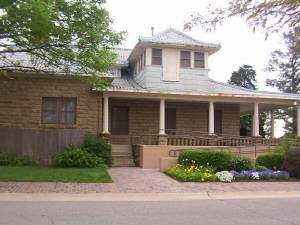 The Gilcrease Manor
History:
William Thomas Gilcrease
was born February 8, 1890 in Robeline, Louisiana. Shortly after his birth, his family moved to Indian Territory, where they lived on Creek Nation tribal lands. When he was nine years old, the federal government distributed 160 acres of Indian Nations land. Being of Creek heritage, Gilcrease received his acreage, located about 20 miles southwest of Tulsa, Oklahoma. While appearing to be no more than dry dusty area in the Osage Hills, Gilcrease's land would make him a multi-millionaire by the age of twenty when drillers struck oil in the area. In 1913, Gilcrease purchased a new house, constructed of native sandstone, along with 80 acres of land overlooking the booming town of Tulsa.
After purchasing the house, Gilcrease began to travel extensively, especially to Europe. He was so inspired by the art in the historical museums that he vowed to start his own collection. In 1922, he purchased his first oil painting. He continued collection over the years, opening a gallery in San Antonio, Texas in 1943. While living in Texas, Gilcrease decided to open his sandstone house as an orphanage for Indian children. Though his museum in San Antonio eventually failed, Gilcrease continued to amass his collection. In 1947, he purchased the entire collection of the late Dr. Phillip Gillette Cole. Today, the amount he paid for the entire collection would not even cover the price of a single piece from it. In 1949, Gilcrease returned to Tulsa and opened the
Thomas Gilcrease Institute of American History and Art
, located on his estate.
When oil prices began falling and his debt began growing, Thomas Gilcrease deeded his entire collection and conveyed the museum buildings and grounds to the city of Tulsa. After transferring his collection, Gilcrease continued to fund archaeological excavations and acquire more material for his collections until, in 1962, he died of a heart attack. His remains were entombed in a mausoleum upon the grounds of his estate and his additional art and artifacts were bequeathed to the museum. During his lifetime, Gilcrease collected more than 10,000 artworks, 250,000 Native American artifacts and 100,000 rare books and documents, including the only surviving certified copy of the Declaration of Independence.
According to legend, Thomas Gilcrease still walks the grounds of his estate. He has repeatedly been spied in his beloved gardens, as well as his former home, and even in the museum itself. He is seen so often, in fact, that the Gilcrease Museum has an unusually high turnover rate on security guards. Other reports have been told of ghostly children that continue to roam the grounds. Investigators often turn up electronic voice recordings of a woman singing, men arguing, and strange whispers. Other phenomena reported by staff and guests include loud banging noises coming from the second floor of the museum, major temperature fluctuations, doors slamming by themselves, unexplainable technical malfunctions, and items that mysteriously disappear only to show up later in a strange place that it obviously does not belong. It is estimated that up to seven different spirits remain on the property to this day.