Arkansas Air Museum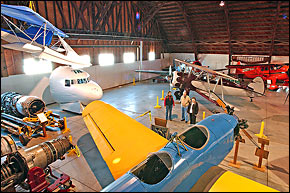 Drake Field
History:
The
Arkansas Air Museum at Drake Field
is located in Fayetteville, AR. Conceived in December of 1985 and opened to the public in August 1986, the museum quickly established itself as the state's first, and largest, air museum. It was dedicated as Fayetteville's contribution to the 150th anniversary of Arkansas statehood. Known simply as the "White Hangar," the all-wooden structure at Fayetteville's Drake Field had been at the center of most of northwest Arkansas' aviation history. The "White Hangar" is one of the nations few remaining all-wooden hangars from the World War II era.
The Arkansas Air Museum collection is a mixture of classic aircraft in flight service condition from the 1920s and 1930s, modern planes from the post World War II era, and static displays of key military aircraft from the Vietnam era. The heart of the collection are the still-flying aircraft on loan from private owners.