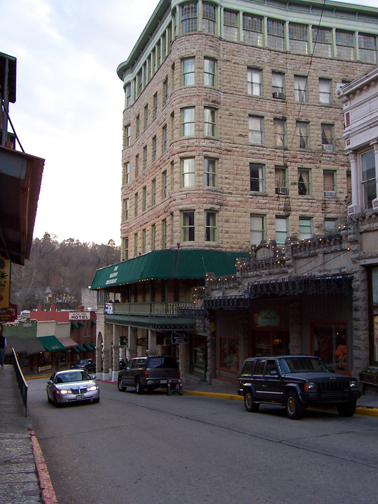 The Basin Park Hotel
History:
The
Basin Park Hotel
is located in Eureka Springs, Arkansas. It was constructed on the original site of the Perry House, a four story hotel built by Captain Joseph Perry in 1881. The Basin had its Grand Opening on July 1, 1905. After almost closing in 1944, the Basin Hotel was purchased by Roy Parkhill, a prominent oilman from Tulsa, OK. In 1948, the Basin became the home of the Barefoot Ball. The Ball was inspired by Ralph Edward's radio show, "Truth or Consequences," when a couple from California won a two week stay at the Basin, having to stay barefoot the entire trip. The Ball became an annual tradition in Eureka Springs.
The Basin Hotel is recognized by the
Ripley's Foundation
for being the only hotel where every floor is actually on ground level. This is possible because the Basin Park Hotel is built into the mountain. In the early years guests would go out through the different floors and explore the paths in the mountain.